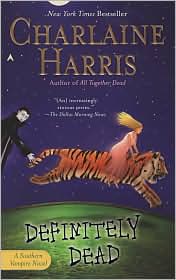 Title:
Definitely Dead
Author:
Charlaine Harris
Publishing Date:
2006
Genre:
Urban Fantasy/Mystery
Rating:
B
Sensuality:
Subtle
Book Disclosure:
I downloaded the audio version to my iPod.
Definitely Dead
is the sixth full length novel in Charlaine Harris' Southern Vampire Mystery series. In this book Sookie goes to New Orleans to clean up her cousin's apartment. Her cousin Hadley was a vampire who died and left her things to Sookie. When Sookie gets to Hadley's apartment she uncovers the body of a man stuffed in a closet. With the help of a witch Amelia, Sookie discovers what happened.
So this was my first audio book and a big concern of mine was whether or not I would be able to concentrate enough to listen and comprehend the story while driving or doing chores. I was pleasantly surprised that for the most part I followed along just fine. The narrator Johanna Parker did a good job. I think it helps that the story is told in first person so the narration fits.
On to the review... well I felt this was a fine installment. Some of the romantic entanglements are tidied with this book. Finally I feel like Sookie is getting a normal boyfriend with Quinn. I like that their relationship starts out conventionally with him asking her out on a date. Quite a few surprises about Sookie are revealed to keep the series fresh and interesting. I wish I could talk about one reveal involving Bill, but I don't want to spoil it for anyone who isn't caught up with this series. For those of you who know what I am referring to with my cryptic statement feel free to comment.
Yeah, this is a lazy review. What can I say that I already haven't said about this series? For fun I have added links to all the reviews for the previous books in the series. If you aren't familiar with this series, check out my other reviews.
Dead Until Dark
Living Dead in Dallas
Club Dead
Dead to the World
Dead as a Doornail
Series Sunday
This book can be purchased in print or kindle format from
Amazon
.