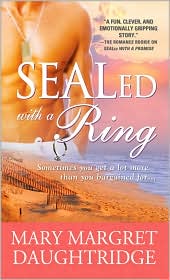 Title:
SEALed with a Ring
Author:
Mary Margaret Daughtridge
Publishing Date:
March 2010
Genre:
Contemporary
Rating:
A
Sensuality:
Hot
Book Disclosure:
I received an ARC from the publisher.
After JJ learns some very bad news from her lawyer, at a wedding no less and she runs into a handsome SEAL who is bound and determined to cheer her up. JJ impulsively accepts his offer of a night of passion. Even though it's the best sex of her life, she regrets her one night stand. A year passes and wouldn't you know it she runs into Davy at another wedding. Only Davy doesn't seem to remember the night they shared. The problem is JJ needs a husband if she is to keep her family's car business. Thinking that Davy will be headed back to duty in the military she proposes modern day marriage of convenience. Only things are much more complicated than JJ could have foreseen.
I'll just tell you right now, Mary Margaret Daughtridge has yet to write a book I didn't love. With her third book, again she has delivered and with one of my favorite themes - marriage of convenience. I love how Daughtridge is able to bring to life what makes a man a SEAL. Her characters, most notably her male leads, come across as real men and not fictional superheroes. It's like she somehow gets into the mind of the male psyche and is giving away their secrets.
Daughtridge takes these extraordinary characters and puts them in ordinary situations that every reader can relate too. I love how she is able to make everyday life seem interesting and special. The pieces of JJ and David's story slowly unfold, revealing a truly lovely and priceless romance. These two are by no means perfect, but neither is willing to give up on the on the other. If you haven't ever read Mary Margaret Daughtridge, I highly recommend you do.
Here is what others had to say:
Love Romance Passion
Randi Romance Reader
Long and Short Romance Reviews
Book Junkie
This book can be purchased in print or kindle format by
Amazon
.