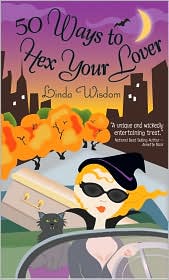 Title:
50 Ways to Hex Your Lover
Author:
Linda Wisdom
Publishing Date:
April 2008
Genre:
Paranormal
Rating:
D
Sensuality:
Hot
Jasmine Tremaine (Jazz) is a 700 year old witch with a penchant for trouble. She has the bad habit of using her magick for her own benefit, usually when she looses her temper, which is forbidden. As punishment, the High Council has banned her from their "witch world" casting her into our mortal world. She lives in Los Angeles has the fun job of banishing curses for people. She also is a chauffer for All Creatures Limo Service. This world is inhabited with all kinds of magickal creatures, werewolves, elves, vampires etc. Speaking of vampires, her ex-lover Nick Gregory, who she hasn't seen in thirty years, needs her help. Over the past few years vampires have been steadily going missing. Nick wants Jazz to help him solve the mystery of the missing vampires. She doesn't want anything to do with Nick, because every time she helps him she winds up in jail.
50 Ways to Hex Your Lover
is quite a silly, whimsical read. There are quite a cast of eccentric secondary characters starting with Irma, the ghost who haunts Jazz's 1956 convertible Thunderbird sports car. Jazz also owns a pair of bunny slippers, Fluff and Puff who are indiscriminant when it comes to food. Then you have Dweezle, the owner of All Creatures Limo Service, who looks like a big green olive with three arms. There is quite a bit of world building but it all felt a bit shallow to me. The impression I came away with was only superficial. A more in depth look into Jazz's world was needed to claim my attention. As it was, my mind would wander and I found it difficult to keep the pages turning.
Jazz's personality comes across as a little abrasive with some attitude. She does show a sweeter side sometimes, too. She has been hurt by Nick in the past but she can't help herself for being attracted to him. She doesn't want to have these feelings for him and she tries to fight it. Nick just wants Jazz and has no qualms about letting her know. The story focuses mainly on Jazz. We only get into Nick's head a tiny amount. I would have liked for there to be more on the relationship between Nick and Jazz. The world building seemed to be more of the focus of this book, rather than the romance. I was looking for something light-hearted but what I got was more slap-stick or screw-ball comedy. It's just not my cup of tea.
Here is what others had to say:
Ramblings on Romance