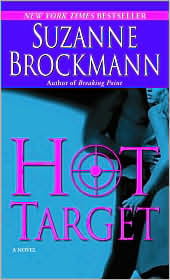 Title:
Hot Target
Author:
Suzanne Brockmann
Publishing Date:
January 2005
Genre:
Romantic Suspense
Rating:
A-
Sensuality:
Warm
Cosmo Rictor, a US Navy SEAL of Team Sixteen, is taking a month of leave time to care for his mother after she falls and breaks both of her wrists. While on this "vacation" he contacts his former captain Tom Paoletti to see about a temporary job at Troubleshooters Inc. Tom has just the assignment for him. J. Mercedes Chadwick (Jane) is producing a very controversial WWII movie involving homosexuality. She has received several death threats the FBI is taking very seriously. The production company HeartBeat hires Troubleshooter Inc. to provide protection for Jane.
At first Jane repels Cosmo and quite frankly, I don't blame him. She is a selfish manipulative bitch. She screws up big time at a press conference and she and Cosmo go head to head about it afterwards. I thought to myself, "Oh no! How is Brockmann going to fix this? These two are supposed to be lovers, yeah Cosmo thinks Jane is hot, but she is a total bitch. Cripes! How is this going to work?" Well, I needn't have worried. Brockmann pulls Jane's head out of her ass and makes everything better – much better. Jane's abrasiveness and sarcasm turns to quirkiness and sensitivity. She becomes a charming, likable person. When they finally do get to their happy ever after, it is very touching and sweet. It's a totally big sappy *sigh* moment.
In addition to Jane and Cosmo's relationship there is a side story arc with Jules, his former lover Adam and Jane's brother Robin. Robin and Adam are playing the lead roles in Jane's production. They are both vying for Jules's attention in a twisted love triangle. This was absolutely riveting and heartbreaking to read. Jules has appeared in previous books in this series. He is usually a funny upbeat character, but in this story we see how sad and unhappy he is with his life. Robin and Adam each have problems of their own and compound Jules's unhappiness. This story arc is not completely wrapped up at the end of
Hot Target
. Not to worry, Jules gets his happy ever after later on in this series.
Here is what others had to say:
All About Romance
Rosario's Reading Journal