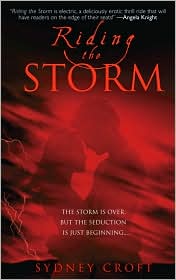 I stopped at Borders tonight and picked up three books. Here is what I bought.
Another fellow blogger introduced me to this erotic romance series and it sounded pretty good. I thought I would give it a try.
Synopsis
A storm's rage. A woman's desire.

A man with the power to set them both free.

He can summon lightning at will. Emerge unscathed from the center of a tornado. Strip a woman down to her barest defenses through the sheer force of his sexuality. He's gorgeous, dangerous, and the target of parameteorologist Haley Holmes's latest mission. Haley has been dispatched to the Louisiana bayous to investigate the phenomenon known as Remy Begnaud–a man with a gift he never wanted: the ability to control a storm's fury. But even a woman trained in bizarre weather phenomena has no defense against the electrifying power of the ex—Navy SEAL...a power his enemies would kill to control.

With her agency monitoring their every move, Haley's job is to seduce Remy, gain his trust–and help him harness his extraordinary gift. But who will protect her from this voracious lover who's introducing her to a new world of erotic thrills—a man who grows increasingly insatiable with each new weather event? Haley knows a big storm is approaching—and with it will come unexpected delights. But so, too, will the storm unleash her greatest fears: an enemy bent on destroying Remy. And her worst fear of all—falling in love with this magnificent man, then having to betray him.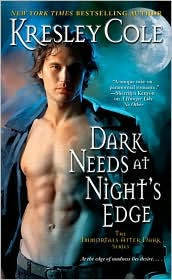 This series has been so awesome I had to run out and the new release as soon as possible! Although it's about a ghost and I am somewhat sceptical, I still have complete faith in Kresley Cole. She leads and I will follow.
Synopsis
Bestselling author Kresley Cole continues her seductive Immortals After Dark series with this tale of a vampire shunned even by his own kind and a beautiful phantom, bound together by a passion they cannot resist.
A RAVEN-HAIRED TEMPTRESS OF THE DARK...
Néomi Laress, a famous ballerina from a past century, became a phantom the night she was murdered. Imbued with otherworldly powers but invisible to the living, she haunts her beloved home, scaring away trespassers -- until she encounters a ruthless immortal even more terrifying than Néomi herself.


A VAMPIRE WARRIOR CONSUMED BY MADNESS...
To prevent him from harming others, Conrad Wroth's brothers imprison him in an abandoned manor. But there, a female only he can see seems determined to drive him further into madness. The exquisite creature torments him with desire, leaving his body racked with lust and his soul torn as he finds himself coveting her for his own.


HOW FAR WILL HE GO TO CLAIM HER?
Yet even if Conrad can win Néomi, evil still surrounds her. Once he returns to the brutality of his past to protect her, will he succumb to the dark needs seething inside him?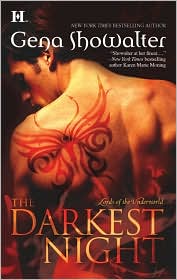 This book one of a new paranormal series by Gena Showalter. I read the book
Catch a Mate
by her and really enjoyed it. I thought I would give this series a try as well. She has back to back release of this series coming out in July and August. I like that there isn't a long wait between books. Isn't the cover sexy? The tatoo makes a nice addition to his sexy back (wiggles eyebrows).
Synopsis
His powers—Inhuman
His passion—Beyond immortal . . .

All her life, Ashlyn Darrow has been tormented by voices from the past. To end the nightmare, she has come to Budapest seeking help from men rumored to have supernatural abilities, not knowing she'll be swept into the arms of Maddox, their most dangerous member—a man trapped in a hell of his own.

Neither can resist the instant hunger than calms their torments . . . and ignites an irresistible passion. But every heated touch and burning kiss will edge them closer to destruction—and a soul-shattering test of love . . .