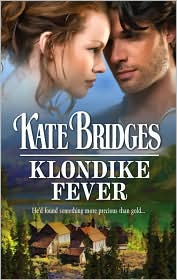 Title:
Klondike Fever
Author:
Kate Bridges
Publishing Date:
April 2008
Genre:
Western/Frontier
Rating:
B
Sensuality:
Hot
Lily Cromwell has struck it rich. She is known in the Yukon wilderness as "Klondike Lily". She has taken her gold and boarded a coach set for Dawson City to look for her sister. On the same coach, Dylan Wayburn, a Mountie officer disguised as a drunken drifter, is after a band of outlaws. He knew Lily from their childhood when she was a breakfast maid for his family back in Vancouver. Shortly after the coach sets off they are attacked by the very outlaws Dylan is hunting. Dylan and Lily manage to get away but they loose all of Lily's gold to the robbers.
Klondike Fever
is a nice, sweet road romance. Dylan and Lily each have their own set of problems to deal with from their past. At first Lily does not trust Dylan. Some of the reason for this is an incident that happened between them when she worked for his family. As they travel on their journey, they learn to trust one another and seek comfort from each other. The romance was well developed and believable.
Even with the short length of this book the characters were well drawn. There is an interesting secondary character, Otis who travels with Dylan and Lily. He adds a bit of color to the story with his fatherly advice for the "newlyweds". Even the villain was well drawn without being a typical caricature.
As much as I liked this story, I didn't exactly love it. It was very well written, but I typically like a little more passion or heat in my romance. There wasn't anything that really stood out to make the story memorable for me. After a day or two, I probably won't remember much of the story. I don't really think that this is a reflection of the writer, maybe more my own personal tastes.