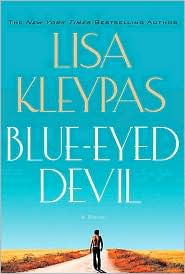 Title:
Blue-Eyed Devil
Author:
Lisa Kleypas
Publishing Date:
March 2008
Genre:
Contemporary
Rating:
A
Sensuality:
Hot
Blue-Eyed Devil
begins with Gage and Liberty's wedding (the couple from Sugar Daddy). Haven is Gage's little sister and she is about to marry her boyfriend Nick. Haven's father doesn't approve of Nick and cuts them off with out a penny. Haven doesn't care about wealth and privilege; she just wants someone to need her and love her for who she is. Haven learns soon into her marriage that she has made a mistake. For two years she is married to Nick cut off from her family. Then one terrifying night, her life changes drastically and she calls Gage for help.
She files for a divorce from Nick and tries to pick up the pieces of her life. She starts working for her brother Jack as an assistant manager of a real estate firm in Houston. It is there she runs into Hardy Cates. She is drawn to him like metal to a magnet. She wants to try and resist the attraction she has to him but she is unsuccessful. When Hardy wants something he goes for it. He doesn't back down, never gives up until he gets what he wants. Haven never stood a chance.
Hardy is everything I love in a hero. He is sexy and masculine with confidence in abundance. He knows what he wants and goes after it. Even though he is physically strong he never uses that against those who can't defend themselves. He is nothing but gentle with Haven, even when he is pushed to his limits. He listens to Haven, focusing all his intensity on her. I could go on and on, just trust me he is great.
Haven has hang-ups about sex and men. All of this is because of her past relationship with her husband. She feels like a broken woman and is afraid she won't ever have a normal relationship with a man. She needs someone who will be patient with her while she works through her problems. Hardy is just that man.
I loved the development of Haven and Hardy's relationship. This book is fantastic. I enjoyed every minute reading it. After I was finished with the book, I went back and started rereading my favorite passages. I have nothing negative to say about this book. I am a gushing fan girl. Lisa Kleypas is a literary goddess.
Here is what others had to say:
Biblioharlet's Bookshelf
The Good, The Bad, The Unread
Ramblings on Romance - Kristie J
Ramblings on Romance - Katie(babs)