I seem to be noticing a trend. I tend to like books with covers that have
nekkid
couples on them but in shadow (ooohh, mysterious). I like that the lovers are in an intimate embrace that seems tender yet sexy as all get out. Also, with the image set in shadow it doesn't seem quite so graphic. I love the bicep with the tatoo around it and how they are holding each other. (In the voice of Borat)
Niiiice, veery niiiiice
.
In this one I like how he is centered between her legs and is gripping her upper thigh. Not to mention how he has his head buried in her neck. It's pretty gosh darn sexy, if you ask me.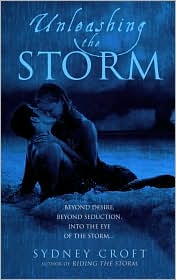 Last but not least we have the nekkid couple making out in the rain on a beach. Whoo-yah! What could be sexier, I ask you? In this one the woman is the aggressor. I love it! I like how the man has his head thrown back in the throws of passion too. He will take it and he will like it!
So there you have it folks. On a side note, I picked up the middle book
At the Edge
only because the cover caught my eye. I am sorry to say the book was a DNF for me. So, the marketing ploy worked. Sadly, I was unable to rant about how good it was however.