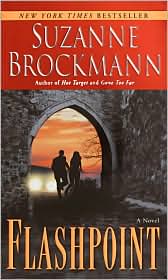 Title:
Flashpoint
Author:
Suzanne Brockmann
Publishing Date:
April 2004
Genre:
Romantic Suspense
Rating:
B+
Sensuality:
Warm
Flashpoint
is book seven of Brockmann's Troubleshooter Series. This is the story of Jimmy Nash and Tess Bailey. Tom Paoletti, a former US Navy SEAL has started his own business Troubleshooters Inc. – an agency designed to help anyone in need (secretly specializing in covert operations). Nash and Tess are assigned to Larry Decker's (Deck) team to retrieve a laptop from a known Al-Qaeda terrorist who has died in an earthquake in Kazbekistan.
The beauty of Brockmann's stories is the complexity of her characters. In the beginning of this book it was very hard to like Jimmy Nash. He is so afraid of emotions and feelings that he closes himself off from everyone around him; even his best friend Decker. He is afraid of intimacy with a woman and only has one night stands and lots of them. This is typically not the type of hero I like to root for. But, he is not one-dimensional. He also tends to collect a motley crew of unfortunates and does everything he can to help them. He is a complicated man who doesn't think he deserves any chance at real happiness. It was a joy to see him grow emotionally through his relationship with Tess and Decker; to become the kind of man you can really stand up and cheer.
Tess was a pleasant surprise. She has a lot of courage and was very resourceful in tight situations. I was with Nash, always underestimating her and then she would turn around and surprise me (Nash too). I liked how she didn't play games and she forced Nash to be honest with her and himself.
Even Decker, who is portrayed (at least through Nash's eyes) as a stand up guy, makes some really poor, bone-headed decisions. I just had to shake my head at his lack of pitiful judgment. But, then he goes and surprises me by learning from his mistakes and he fully redeems himself. Decker and Sophia Ghaffari begin their story arc in this book and I wonder if they will eventually get their own book. Sophia is another great character. She is so strong and courageous. She really stunned me by surviving what she has gone through and her willingness to help Decker's team. Another great addition to the Troubleshooter series. On to the next book we go.