I'm super exited about the next installment of Patricia Brigg's Mercy Thompson Series. Only bad thing for me is that it is bound in hardback form. You know, more costly. Of course, the hardback does keep nicely - none of those pesky creases that plaque the paperback. For those of you who are new to the series, check out my post
here
for a brief series synopsis and the reading order.
Releases: February 3, 2009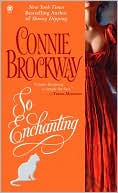 I am a big fan of Connie Brockway's work. I discovered her through
AAR
top 100 romance lists. Several of her books have made the list, among them are
All Through the Night
and
My Dearest Enemy
. Here's to hoping for another masterpiece.
Releases: February 3, 2009
I love Jennifer Crusie and will pretty much read anything she publishes. The fact that Anne Stuart and Lani Diane Rich are a part of the book is just icing on the cake. From what I can understand, it's the story of three friends who all find love after they discover they each have a different superpower. It is just one story, but there are three protagonists. If anyone knows for certain, feel free to correct me. It sounds really cute and fun.
Releases: February 3, 2009