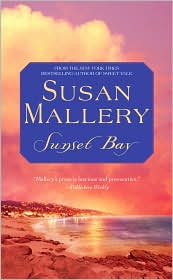 Title:
Sunset Bay
Author:
Susan Mallery
Publishing Date:
March 2009
Genre:
Contemporary
Rating:
B+
Sensuality:
Hot
Megan Greene's life is going just the way she wants it. She has a successful accounting job at a prominent firm, and she is getting married in two weeks to a handsome cardiologist. Her mother is a self-centered hypochondriac, but that's okay because she has her father to make up for it. They have always had a very close relationship. Just as Megan thinks how perfect her life is, she gets an unexpected visit from a lawyer and receives the shock of her life. Right before her very eyes, all she holds dear is falling apart.
Megan had a short affair with bad boy Travis Hunter. He was her first love at eighteen. Things didn't work out for them. They were young and in love, but Megan was too young to see things through and it ended badly. Now ten years later, she is reevaluating everything she knows. Megan takes a good hard look at her life, maybe things could have been different.
Sunset Bay
was a very griping emotional read. From the first few sentences I was entranced with Megan's story. Her mother is a total bitch. I'm talking Wicked Witch of the East here. The stuff fairy tales are made of. Her Mom is constantly beating her down emotionally. But Megan is a survivor. She has her father to lean on and get support from. I really connected to Megan early on in the story.
Sunset Bay
is all about Megan working out her relationships with her fiance, Adam and her lost love Travis. It is about Megan dealing with her relationship with her father, mother and sister. It is a life affirming story of one woman's struggle to deal with what life has dished out for her and none of it is easy. Megan is a fighter and this is her journey. There is a reality to this story in the relationships Megan has with everyone. Her problems are those that anyone could have and probably has had to deal with.
There is an underlying theme about unconditional love throughout the book that really got me thinking. It was cleverly done by using Megan's relationship with her sister and parents and also Travis's relationship with his Mother and Father. It was interesting to see how Megan's and Travis's relationships with their parents strained their ability to work through their own problems. Megan and Travis stumbled around a bit before finally figuring out how to make it work.
I couldn't read this book fast enough. My one complaint would be at what asswipes Megan's parents are. They really made me angry at how selfish they acted. I guess that is a testament to how well Ms. Mallery wrote them, because my emotions were definitely engaged in the Megan's plight. There is a small secondary romance involving Megan's sister Leanne. I enjoyed this brief portion of the story, as well. I would definitely recommend this story to fans of contemporary romance or women's fiction.