Many of you who follow my blog know I received the iPod Touch for Christmas. Lucky for me, Harlequin was running a promotion for iPhone or iPod Touch owners that they could download four of their Harlequin Mini books for free. Free books, you say? That's right, free. So of course I jumped at the opportunity to add them to my ever growing collection, because really, can you ever have too many books? Is there such a thing? Anyway, I ended up reading two of those books and here are my thoughts on them. These books were very short - novella size, I suppose. Since the books were so short, so will the reviews.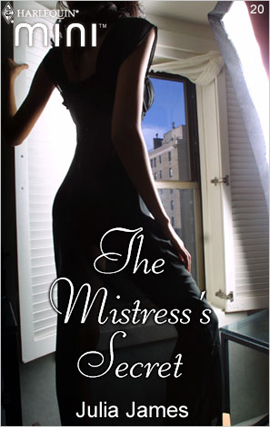 Title:
The Mistress's Secret
Author:
Julia James
Publishing Date:
2004 (this is what it has for the copyright date, but I thought mini's were new to the Harlequin line)
Genre:
Contemporary
Rating:
D
Sensuality:
Warm
Alanna Richards used to be the mistress to one very wealthy Leon Andreakos. Can you guess his nationality? I don't know why this one wasn't titled
The Greek Tycoon's Mistress's Secret
. Too Long? Title was already taken? Anyway, back to the story. Something happened in their past that lead her to flee from him and is now living in borderline poverty. Four years she has managed to avoid him when she accidentally runs into him in a department store. Leon hasn't ever been able to get her out of his mind and after he see her he wants her immediately.
The good news: this story was really short. I read it on my lunch break at work. The bad news: the majority of the story was a retelling of what happened in Alanna and Leon's past. It was all very cliched, with a secret baby plot and a big misunderstanding. All of this was just too much for such a short story. Leon's reason for wanting to marry Alanna was very flimsy. Like I said, good thing it was short.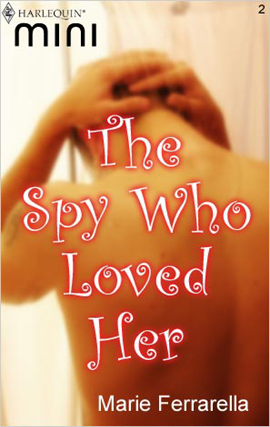 Title:
The Spy Who Loved Her
Author:
Marie Farrarella
Publishing Date:
2000
Genre:
Contemporary
Rating:
B-
Sensuality:
Kisses
Marla O'Connor an English teacher is at a teacher's convention in San Francisco. After a day of seminars she is eagerly looking forward to a hot shower and curling up with a good book. But surprise, surprise, when she unlocks the door to her hotel room she discovers a stunning specimen of a man, naked in her shower. For the sake of her own safety, Erik must keep her with him until he can secure his package (not that package - get your mind out of the gutter). That's twelve hours they will have to allude the bad guys.
I liked this mini much better than the previous one. I was able to read it in the same day and I found the differences to be quite drastic. Where as with the previous one I was told the story, this one was all action right from the get go. There was lots of interaction and witty banter between Erik and Marla. I was much more engaged in these characters. I still needed some suspension of disbelief because the story was very short, but nothing was super over the top. I could roll with it. My main complaint would be that when Erik and Marla finally get busy between the sheets, the story fades out and it picks up morning after. I know I sound like a pervert, but hey, I wanted to be apart of it too. What? Three's a crowd? Sheesh.