And the winner is....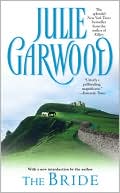 Thanks to all of you who participated in my poll. It was a very close race with
The Bride
coming in first place a total of 8 votes (only two more than the runner up). Next was
The Duke
with 6 votes and
The Viscount Who Loved Me
with 5 votes. Poor
Jenny Jones
only received 2 votes. I guess folks aren't into westerns.
I haven't read a good medieval in a while, so I am glad that
The Bride
won the poll. I hope it still holds the same magic it once did for me. It was the first Julie Garwood book I read. After I read it, I glommed a bunch of her books and discovered that after a while all her historicals seemed very formulaic. You could practically just interchange the character names and the title and get the same book. Now that my tastes have gotten more sophisticated, I wonder if it will still hold the same appeal that it once did. We'll see!