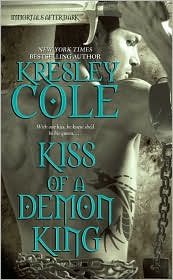 Title:
Kiss of a Demon King
Author:
Kresley Cole
Publishing Date:
January 2009
Genre:
Paranormal
Rating:
B+
Sensuality:
Hot
This is the 6th full length book in Kresley Cole's Immortals After Dark series. Rydstrom is a demon who lost his kingdom centuries ago. One to never shirk his duty or shy away from a difficult challenge, Rydstrom has vowed to do what it takes to gain back the throne to his kingdom. Omort the Deathless, a very powerful sorcerer is standing between him and what is rightfully his. As his brother Cade journeys to retrieve the only sword that can kill Omort, Rydstrom finds himself held captive by the beautiful Sabine, the Queen of Illusions.
There were many things about
Kiss of a Demon King
that are similar to the other books in this series, and yet it is still different enough that it doesn't feel like the same book with only different names for the characters. It was fast paced with plenty of sarcastic humor and larger than life characters. Although at times, I found it difficult to connect to Sabine. She is selfish and other than her sister she is only concerned with her needs and wants.
Rydstrom was really great though, a major hero in every way. I really liked him. He was sort of stodgy for one of Cole's heroes, but he more than gives as good as he gets after he escapes from Sabine. It was really fun to watch him turn the tables on Sabine and pull the wool over her eyes. She was too sure of herself and underestimated him. This book was super sensual. Much of the plot was focused on sex. Cole did a really fantastic job of creating much sexual tension between the characters.
One thing I noticed was that there really was no definitive set up for the next book. I believe there might be something in the future dealing with Sabine's sister and the Vrekeners or, possibly something with the Horde vampire, Lothaire. It's hard to say, though. I know lots of fans want more of Nix. I do too. So, what is next, I wonder?
Here is what others had to say:
The Good, The Bad, The Unread
Danielle's Book Thoughts
Book Binge
My Thoughts on Nothing Much at All
Tracy's Place
Good and Bad Books
Rip My Bodice
The Book Smugglers
Dear Author
If I missed your review, just add your link in the comments section. It wasn't intentional, I promise.