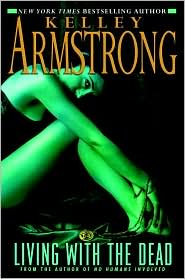 Title:
Living with the Dead
Author:
Kelley Armstrong
Publishing Date:
November 2008
Genre:
Urban Fantasy
Rating:
B+
Sensuality:
Kisses
Living with the Dead
is book nine in Kelley Armstrong's Women of the Otherworld series. It follows closely on the heels of the previous book
Personal Demon
. There are several narrators in this story in the third person point of view: Hope, Robyn, Finn and Adele. Hope Adams is an Expisco half-demon who senses chaos and negative thoughts. Robyn, one of her good friends from high school was recently widowed. She moved to L.A. to make a clean start with her life. Robyn is working as a PR rep for a young socialite, Portia Kane, until Portia ends up dead and Robyn is the prime suspect. John Findlay, better known as Finn, is working the case. Finn has a little help that most people don't know about. He can communicate with the dead and one special ghost is helping him with this case.
Living with the Dead
is another strong addition to this already immensely popular series. The storyline jogged along at a very brisk pace. I think the whole story only takes place over a couple of days. The world building and plot was nice and tight, with an excellent execution. I think some readers might be critical of the varying points of view, but in my opinion, it helped to enhance the urgency and suspense of the volatile plot. What would happen is the reader would be following along with one character and right at the moment of high tension, the chapter would end leaving a huge cliff hanger. The next chapter would begin from someone else's point of view and eventually circle around back to the same cliff hanger of the previous chapter. This technique enhanced the suspense and just made me want to read as quickly as possible.
The romance was definitely not the focus of this story. There was some romance threaded throughout, but it wasn't as strong as previous books in the series. Hope and Karl's relationship is already established, but they still have to work out some issues. Hope is struggling with relying too heavily on Karl and it scares the living daylights out of her. Robyn is a new character and human to boot, which means she is unaware of all the supernatural beings in her world. There is a small thread of romance with Robyn that I can't really disclose without giving too much away. Let's just say that by the end of the book, Robyn is starting to pick up the pieces of her life again after her husband's death. Some issues were left open at the end of the book with a lot of room for new story threads for future books. This series is staying strong and fans have a lot to look forward to in future years.
Here is what others had to say:
Love Romances and More Reviews
Urban Fantasy
SciFiGuy.ca
Renee's Book Addiction