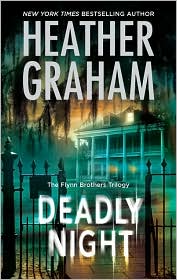 Title:
Deadly Night
Author:
Heather Graham
Publishing Date:
2008
Genre:
Paranormal
Rating:
C-
Sensuality:
Warm
Aidan Flynn and his two brother have inherited a southern plantation from an aunt they didn't even know existed. There have been rumors that the house is haunted by a lady in white. When Aidan visits the house he discovers a human thigh bone. Aidan is a private investigator and wants to know where the bone came from. Kendall Montgomery stayed with Aidan's aunt the last few weeks of her life. She claimed to see ghosts at the end and that there was something evil on the grounds. Kendall at first was skeptical, but now she is having strange experiences herself, that she can't explain. She and Aidan work together to unravel the mysterious circumstances.
Deadly Night
is the first book in the Flynn brother trilogy. After reading the summary for it, I knew this book was right up my alley. It is set in New Orleans with a haunted plantation, combined with a Civil War romance. Unfortunately, this book did not live up to my expectations. It was sorely lacking in many aspects.
The most disappointing part of the book was that it was just plain boring. Kendall and Aidan were okay characters but I never really connected to them. At first, Aidan comes across as very cold and distant. He and Kendall don't like each other at all. Eventually, things change and they become intimate, but I wasn't really buying it. Everything was so lackluster. Where's the passion?
The mystery portion of the book was better developed than the romance. Most of the book was focused on the details of Aidan's investigation. I found it to be a touch boring at times. I did like many of the secondary characters and how at one moment the clues would point to one person and then in the next chapter someone else was under suspicion. This book might do better as marketed as straight mystery instead of paranormal romance.
Here is what others had to say:
Not Enough Books
Jenn's Bookshelf
A Bookaholic's Review
Darque Reviews